.
Is it more cost effective for my small business to move to a cloud solution?
Should You Move Your Small Business to the Cloud?
Cloud computing
. For some, the term is wildly nebulous. Not long ago, even Oracle's Larry Ellison publicly asked what the heck people meant by "the cloud."For others, cloud computing
instantly raises concerns about security and reliability. After all, Gmail, a popular cloud-based e-mail service that has endured some high-profile outages, didn't earn the nickname "Gfail" for nothing.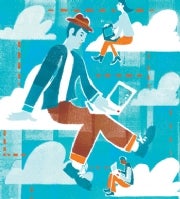 Before you dismiss the cloud
as a lot of vapor, though, listen to what three small-business people told us about their experiences with it:
• "We saved over $4000 in up-front costs by moving to an entirely cloud-based solution [for e-mail, Web hosting, virus protection
, and more]. We were also able to substantially reduce our power bill and the costs needed to maintain and upgrade hardware." –Bob Everett, president, Bottom-Line Consulting, a three-person firm offering various small-business services.
• "As a non-IT person, I find cloud-based applications easier to set up and use than many [computer] applications, and I don't need to rely on internal IT support
as much for assistance." –Cristina Martin Greysman, executive vice president, business development
, Vuzit, a six-employee software company.
• "A power surge nearly destroyed our in-house e-mail server. Had we not recovered it, a great deal of historical knowledge and valuable information would have been lost forever, not to mention the lost productivity for days or weeks. Now we have a secure, redundant, cloud e-mail system we can access anywhere, anytime, with a consistent interface, and it's made our business stronger." –Kevin Hart, partner and founder, Hart-Boillot, a ten-employee marketing and communications agency.
To be sure, cloud computing has its shortcomings (more on that later); but small businesses looking to cut computing costs and improve efficiency during this long recession are finding the many benefits of Internet-based software and services increasingly attractive. In fact, companies with 100 or fewer employees are expected to spend $2.4 billion on cloud computing services
in 2010, up from $1.7 billion in 2009, according to Ray Boggs, vice president of SMB research for IDC.
Here's what you need to know about cloud computing
: what it is, pros and cons, suggested services, and tips for applying it to your business.
What Does Cloud Computing Mean?

For decades, engineers have drawn a cloud to depict a network (such as the Internet) whose inner workings were unknown to them. From there, cloud computing
evolved as a term to describe free or subscription-based services delivered in real time over the Internet.
Cloud computing
can refer to software as a service, such as Salesforce.com for customer relationship management (CRM); to file storage, synchronization, backup, and other utility computing, such as Dropbox; and to infrastructure as a service, including Amazon's Elastic Compute Cloud, which delivers customizable computing capacity over the Internet.
Sponsored Links
Excerpt from PC World
by: James A. Martin
January 29, 2010